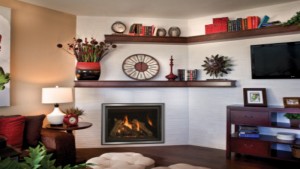 If you have an existing fireplace, you are probably hooked on the aroma that wafts from it. Nothing quite beats the smell of wood crackling on a fire. Yet, today, we are also looking for energy efficiency and environmental responsibility. The way to satisfy this is through electing to keep the fireplace but opt for the installation of convenient and modern wood burning inserts.
Wood Burning Inserts
If you are planning to purchase a wood burning insert for your fireplace, you need to be careful. It might surprise you, but wood burning inserts are not all the same. Not only are they the product of different companies, they are available in diverse:
* Sizes: The different sizes are designed to fit your fireplace
* Styles: These range from contemporary to more traditional
* Types: Inserts to fit into existing fireplaces and those that are introduced in new free standing or zero clearance fireplaces or stoves
Wood burning inserts are perfect for placing into existing fireplaces or other installations. Before you purchase one and arrange for installation, be sure you understand what to look for.
Size
Inserts do not all come in the same size. As a result, you need to make sure that you, and the company you may hire for its installation, be aware of the size of your fireplace. This is important because if it does not fit correctly, it will not perform as it is intended to do. Make sure, you measure your fireplace opening (not the exterior) so the insert will match these three important aspects:
* Height
* Width
* Depth
By correctly determining the size of the inside of the fireplace, you will be certain to obtain the right fit.
Proper Installation
Choosing the right size is very important. What also matters is the caliber of installation. A professional will tell you whether the insert you have chosen is correct. He or she is also knowledgeable in other areas. This includes whether you should go ahead and decide on installing an insert. Some models or styles of older fireplaces may not be suitable. They may be too old, or some other factor may affect their ability to work effectively with an insert. The same applies to the current condition of your chimney.
A professional also recognizes the need to make sure any installation of wood burning inserts is done so it is airtight. Airtight inserts allow you to control the fire as well as the output of the heat. In this way, you and your family will be able to benefit from the energy efficiency of your fireplace.
Wood Burning Inserts
If you have a fireplace, you may want to consider the advantages you may derive from adding a wood burning insert. It will increase the efficiency of your existing fireplace. At the same time, it will not sacrifice your love of the aroma of burning wood. If you want all the pleasure of a rustic fireplace, yet need the modern convenience of energy-efficient heat, go ahead and look at what wood burning inserts can do for you and your energy bill.