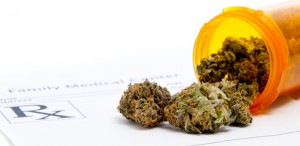 Let's make no bones about it; despite what you may see or read in the media; both recreational and medicinal use of cannabis is forbidden under Federal Law. Furthermore; no matter what laws a state might pass; Federal Law can possibly override them.
The Illinois State Compassionate Use of Medical Cannabis Pilot Program Act
Individual states can (and do) pass their own in-state laws that can (and do) differ from Federal Law. Whose law outranks who's is open to some debate; but, generally, the Federal authorities usually hold the upper hand whenever push comes to shove. Fortunately for people in Lake County (and the whole of the rest of Illinois) that suffer from many (quite common) debilitating health conditions; the Federal Authorities currently appear not to be interfering with Illinois' attempts to assist people with health problems that could be alleviated through the use of medical marijuana in Lake County and elsewhere. The State Law that allows this was passed in 2013 and signed into law by Governor Pat Quinn on August 1ST of that year. Acceptance of applications from patients, growers and dispensers began in the September of 2014.
Compassionate And Controlled
Although the Federal viewpoint is that there are no fully proven medicinal benefits to be gained from cannabis use; there are countless case studies from respected physicians and others that definitely show a link between such use and an improvement in a patient's condition. These include nausea relief in patients undergoing chemotherapy as part of their cancer treatment; increased appetite for those receiving AIDS treatment; relief from various rheumatoid arthritis complaints and (in addition) over 35 other debilitating conditions.
It is to this list of known successes that the Illinois act is aimed and a vital part of the control system is that anyone wishing to take advantage of it must present proper evidence from a doctor or care giver that they do, in fact, suffer from one of these qualifying complaints. In addition; they must be over 18 years old and able to provide evidence of their legal residency in Illinois. (Special arrangements do exist for those under 18). The applicant and his physician have to apply to the Illinois Department of Public Health; who; after confirming the details and collecting the mandatory fees; will issue an Illinois Medical Cannabis Qualifying Patient Registry Identification Card.
However, this is not a "carte blanche" to go out and purchase. All registered card holders can only purchase their approved dosage at approved dispensaries (like those being setup by Greenhouse) that are registered with the State. Under normal circumstances; the quantity of Medical Marijuana In Lake County that can be legally purchased is restricted to 2.5 ounces every 2 weeks, Click here to know more info.