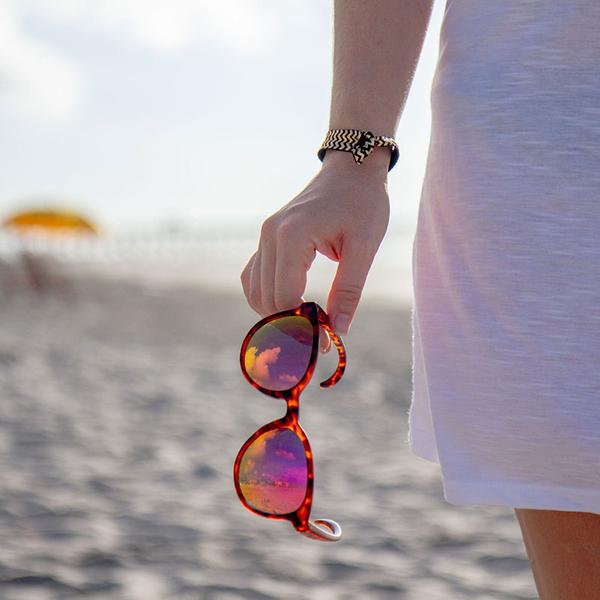 Sunny days the world over are undeniable invitations to adventures on the water. Nothing beats kayaking, parasailing or fishing with friends in the broadest, most beautiful daylight. And nothing beats blinding, distracting sunny glare better than Rheos' floating polarized fishing sunglasses. Here's why.

The Rheos Difference

At Rheos, we're adventurous and have an intense passion for fun on the water. Our company name is the Greek word for river current, which pretty much sums up where our hearts and our eternal gazes are. Speaking of gazes, glare on the water is one of our top visibility concerns when it comes to sunny day fishing excursions, charters, etc.

That's why we designed our floating polarized fishing sunglasses: to give you and us a competitive advantage on the water when the sun is bright and the fish are jumping. Our polarized fishing sunglasses block horizontally reflected light, or glare, without minimizing visibility on the water.

The result is that you see everything above and below the water as with your naked eye, minus the sun's blinding glare. Even better, our polarized sunglasses also offer protection from UVA and UVB rays in ranges above 400 nanometers, which are the most destructive. Additional coats of special substances help water bead off. The additional coats resist fogging, scratching and prevent damage from exposure to salt water and oil, too.

How We Make Them Float

The secret to our floating polarized fishing sunglasses is TPX. It's our specialty material, and we use it to mold every pair of sunglasses we make. TPX sunglasses are 30 percent lighter than similar sunglasses made of polycarbonate, except TPX is ridiculously sturdy. It stands up to your most passionate daily use and floats like foam without the addition of any buoys or bumpers.

This keeps each pair lightweight and face-friendly. Soft-touch nose pads ensure optimal comfort even after hours and hours of wear. Step up your fishing game with just the right gear for sunny day fishing adventures. Explore Rheos, and find your next lifelong pair of polarized floating fishing sunglasses.